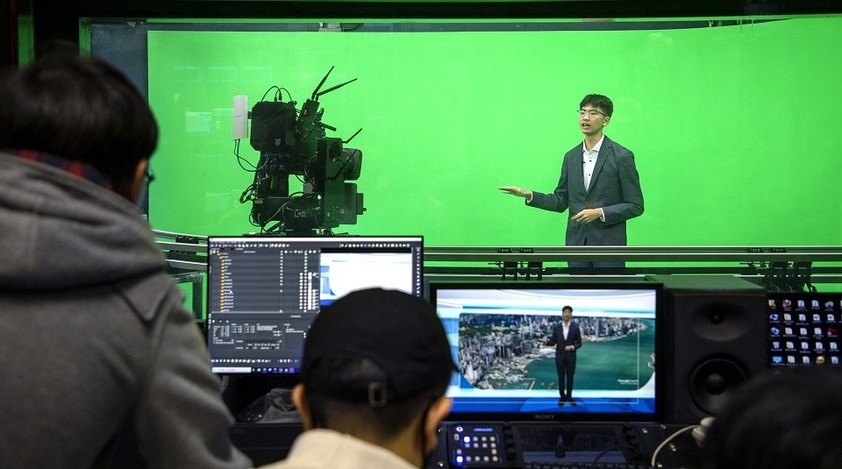 A journalism student presents his news story against the computer-generated backgrounds in real-time.

Students majoring in Journalism and Film collaborate at a workshop to develop a news presenting experience that uses computer graphics and virtual set technology.

Ms Jenny Lam, Senior Lecturer of the Department of Journalism, believes that virtual set can serve as a space for students to learn and experience how digital technologies can enhance the news storytelling experience.
In the digital age, emerging technologies influence how audiences engage with the presentation of news stories, and therefore broadcast and multimedia journalists must explore novel storytelling techniques to make the news meaningful for their audiences.
In the School of Communication and Film, students majoring in Journalism and Film (Animation and Media Arts Concentration) worked together at a workshop to develop a news presenting experience that harnessed computer graphics and virtual set technology.
The newly launched virtual set, which is equipped with a green screen and connected to a control room, is designed to support teaching and learning for faculty members and students who want to explore the use of digital technologies in the production of newscasts. Green-screen technology, known for integrating special effects into films, enables the students to create an eye-catching virtual backdrop through the application of on-screen graphics.
Ms Jenny Lam, Senior Lecturer of the Department of Journalism, organised the workshop on the functions and utilisation of the virtual set. She says, "Virtual sets have become increasingly popular in the broadcasting industry, and they are being used in a more and more diversified way. With this facility on campus, students can immerse themselves in a virtual world and practise different storytelling techniques for presenting the news."
During the workshop, the journalism students prepared scripts for news stories, and they then worked with the animation students to design a storyboard to illustrate the visual content of the news. Based on the storyboard, the animation students created 3D virtual environments which were integrated into the virtual set. When the journalism students presented their news stories, the computer-generated backgrounds were shown in real-time, making the content visually interesting and engaging for the audience.
The students have promptly embraced the potential offered by the virtual set to transform the way news is presented. "Learning to use digital technologies broadens my experience. This workshop allowed me to understand how to create a virtual set and gain skills in news anchoring in front of a green screen," says Liu Ying, a third-year International Journalism student.
Ashley Chan, a third-year student who is studying Animation and Media Arts, appreciates the opportunity to work with students from another discipline. She says, "We can discuss together how to use this virtual set, and we can also freely use our 3D modelling skills." Ashley and her teammates selected the Kowloon City renewal scheme as the theme for their project, and they adopted animation tools to design a model of the buildings in Kowloon City.
Ms Lam sees the virtual set as a space for students to learn and experience how these rapidly evolving technologies can enhance the news storytelling experience. "The trend in the broadcasting industry is towards using more video and digital media, as computer-generated sets can deliver diversified presentation coverage. It is important for broadcasting and journalism students to know how to interact with the virtual world," she says. "For the animation students, they can make use of the skills they've learnt from this workshop in game design and animation. The virtual set presents a medium for storytelling, which is both applicable in news production and filmmaking."
For more: https://bunews.hkbu.edu.hk/news/knowledge/transforming-news-storytelling-in-the-virtual-set